Local Voice For Global Concern
Many countries are facing critical situation and losing normal status in agriculture, health and livelihood for climate change. However unexpected poverty and migration has been creating there. In this global reality, Bangladesh has been identified as one of the most burn-arable country for climate change. There is happening new type of environmental hazard, disaster however abrupt changes in land, particularly in Southern districts and islands of Bangladesh. The life and struggle is becoming for sharp! This is the time to stop changes in climate for saving life and livelihood, particularly for Bangladesh like most effected countries. As already there is happen huge damages, need to pay compensation, however essential to establish 'Climate Justice'. Although there is ongoing many debates, practices and demand, but having very less participation and voice of victims in the process, media, policy making process. In order to strengthening the voice of voiceless rural climate victims 'Climate Radio' pod casting initiative has been launched.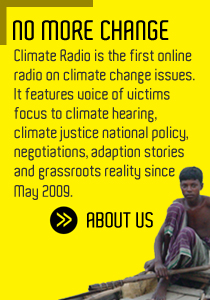 'No More Change in Climate' with this slogan 'Climate Radio' has started its mission on May 2009. This is an on-demand online radio from Bangladesh. Initially it started mission with publishing the voice of Alia victims. The nonprofit project 'Climate Radio' has been published and edited by Shahjahan Siraj with technical and administrative supports of Machizo Multimedia Communication.
The objective of 'Climate Radio' is to present the voice of Bangladeshi climate victims in global stage through the 'Internet'. We believe, although it is a small initiative but having open local content. It has limitless power to reach in global policy making levels, however to encourage unlimited number of internet users that may influence to establish climate justice worldwide.
We will be happy, if someone by listening the stories of Bangladeshi climate victims become sensitive and aware about climate change.
Climate Radio has vision to publish more and extensively voice of victims by visiting all southern effected climate change hots-spots and Bangladeshi islands which are mostly burn-arable area. Along with the climate voice, we would like to produce a series of documentary like 'VICTIMS' , CLIMATE ORPHAN.  In this 1st phase Climate Radio has published a number of interviews, government's statements , adaptation success story, vision of civil society, voice of activist, national leader and policy makers.
All the content of 'Climate Radio' is free and open content under Creative Commons. Any body can use clips and production without reedit or change for public benefit and purposes. There is no need permission as well.
It is a 'zero-funded' not for profit project. We have big vision to launch full phase online radio and audio sharing site on climate change as well. But it is hard to expand without external support. We are looking partnership and collaboration to expand the Climate Radio in second phase. If any organization and individual interest to join please contact us
The team
| | |
| --- | --- |
| Shahjahan Siraj | Publisher and editor |
| Jahangair Alam | Sub editor and producer |
| Sujit K. Paul | Transcript writer and translator |
| Foyez Tasmia | Researcher |
| Matsuzaki Misuzu | Adviser |
|  Maruf Barkat |  Adviser |